20 years of workplace design: The Space Matrix journey
2001 was a memorable year for technology and the world of work. Apple had just opened its first flagship store and was about to release a ground-breaking new device called the iPod. Microsoft had released a brand-new OS called Windows XP. A free online encyclopaedia called Wikipedia was starting to make the rounds. A show called 'The Office' had just come on air (little did anyone know that it would be setting the standards for workplace satire for years to come!).
Alongside all of this, we at Space Matrix navigated our very first year. Through all the excitement, the challenges, the ups and downs, one undeniable fact became clear to us — that the world of work is extremely dynamic. That first year got us excited for the trends to come, the changes we would witness and the evolution that would follow. Today, as we celebrate our 20th anniversary, we look back at some of those changes through time. Join us in this nostalgic journey.
Early to mid-2000s
Whereas offices in the 90s were still quite formal, things had started changing by the early 2000s when we began our design journey. The young, innovative tech firms of the time were already showing a preference for more casual workspaces, and as a departure from previous trends, designers were bringing in bright colours with accent walls and décor pieces.
We had a role to play in this trend too, with some of our early projects. The pops of orange seen in Hyperion's office in Singapore and the fresh rainbow hues at the Cargill workplace are great examples. This was also the time when brand identity started playing a greater role in office design. It was not unusual to see the brand colour being used as an accent tone, to function as reminders of the company values to guests and employees.
Some companies were open to the idea of setting aside a small area of the office as breakout or relaxation zones — which at the time, was quite ground-breaking given that the previous decades saw the office only as a space for work. However, layouts still remained largely traditional, with employees working out of cubicles and meeting rooms retaining their air of formality.
2008 to 2009
Unlike the previous years, more business was now being carried out online, and more information stored on devices. With less paperwork and the reduced need for physical storage spaces, offices started getting less cluttered than the decades before. The advancement of technology also meant greater involvement from employees — people were logging in from home when needed, thereby blurring work-life boundaries to some extent. Designers saw the need to make the workplace a more creative and inspiring place — and this led to sustainability and biophilia becoming more important parts of office design.
2008 was when we set up our first sustainability-driven design practice, and a year later, we completed our first major project in this space with the Suzlon One Earth corporate campus. The office was naturally lit with wall-to-wall windows, and instead of typical linoleum flooring, we opted for polished natural textures. Rather than the more common solid-coloured walls, we added in warm wood elements on the floors, the staircases and the ceiling. This office went on to receive international recognition for sustainable design. In 2010, we conceptualised the Vestas Singapore. It was subsequently named the highest rated LEED Platinum Project in Singapore, and the third highest in the world.
These green workplaces set the tone for a more eco-friendly future — the impact of which we see in office design even today. For example, we recently conceptualised a workspace for Rubrik Bangalore that is not only LEED-certified, but also meets the WELL framework. From indoor air quality and lighting to materiality and even the food served in the pantry, the workspace keeps sustainability and wellness in mind at every step. Similarly, the Polestar Shanghai office does this by leveraging technology. Its automated lighting system drives massive energy and cost savings, while offering a soothing interior environment for employees.
Early 2010s
This is when millennials first started entering the workforce, bringing with them unique new ideas of the way work can be done — ideas that were very different from the previous generations. Their needs started shaping workplace requirements in a big way. Traditional, closed plan offices evolved to open, fluid, dynamic layouts. Given that millennials did not draw stark boundaries between the personal and the professional, workplace strategy had to pay attention to elements like recreation, social interaction and wellness. 
These millennial influences were apparent in offices like Group M (Singapore) and Crem International (Shanghai), where café bars and lounge-like spaces sat right alongside open-plan work areas.
Companies were also realising the importance of a well-curated front-of-house experience for guests and potential new hires — so they put effort into wowing them at first glance. At the BPTP Crest space in New Delhi, for instance, we achieved this with a sweeping, sunlit reception area, and an artistic, almost gallery-like zone on the side featuring sculptures and installations.
Mid-2010s
By this time, open-plan offices had been in use long enough for people to start noticing its downsides, if not designed thoughtfully. A vast open space, with no walls or dividers, often proved quite distracting, and the lack of privacy was an added disadvantage. The new-age offices in this era thus evolved to solve these issues while still retaining the collaborative advantage of open offices.
Designers started exploring the concept of agile spaces and activity-based working, to cater to employees' needs through the day. Companies like Cisco (Singapore) achieved this through thoughtful design layouts that included formal and informal meeting rooms as well as breakaway spaces for focussed work and booth seats for casual collaboration.
Similarly, Autodesk (Bangalore) made room for privacy with phone booths and special zones separated from the rest of the office by semi-closed doors. Of course, given that employees in different companies all have specific and unique working styles, the mid-2010s started seeing a lot of customised workplace solutions.
2016 to 2017
Although coworking spaces had been around for a while, they became extremely popular at this time. At Space Matrix, we were thrilled to be at the forefront of this trend with our unique  hybrid concepts across coworking hubs in Hong Kong, Shanghai and Singapore, among others. 
When we developed Eaton Club in Hong Kong, we designed this space to be an amalgamation of a work area, a lounge, a café and a bar, with the idea that users would be able to work, network, collaborate and relax, all in one place. Over in Singapore, we helped build 1880 — a coworking concept that was envisioned as a social club with a focus on driving conversations. Subsequently, every corner features art and décor pieces that function as conversation starters — and there are adequate well-designed spaces where patrons can withdraw to carry on these conversations in comfort. By the end of 2017, new coworking spaces had to compete within an extremely crowded marketplace. The focus then was to stand out — and companies did so with unique and innovative offerings.
Here again, our designers led the change — and the CapitaLand Ascendas Plaza Bridge+ coworking concept in Shanghai is testament to that. Here, our designers transformed an existing retail mall into a coworking space. The central void area that's typical in malls became a point of interest, with floating staircases criss-crossing it. The retail mall ecosystem also meant that this coworking concept was surrounded by stores, gyms, F&B outlets, and innumerable sports and entertainment options — in short, everything one needs for a balanced lifestyle that goes beyond just work.
2017 to 2018
Workplace technology was progressively getting more sophisticated by now — and companies started leveraging these innovations to offer a tech-enabled workspace to employees. This is also the time when more people started moving away from the workstation-bound approach to embrace the concept of a 'Digital Nomad'. In this landscape, having a superior technology-backed workplace strategy proved to be an undeniable advantage for employers. It allowed them to hire skilled professionals from anywhere in the world, and offer existing employees the freedom to log in from various locations and collaborate seamlessly.
Security was yet another advantage that these tech-enabled workspaces were able to enjoy. Diginex in Hong Kong for example, was able to support its collaborative, flexible workplace policy with military-grade security features to ensure data privacy. IoT solutions like our very own SpaceXP also started proving indispensable in the design process itself, and in providing superior workplace experiences.
2018 to 2019
With work-from-home becoming more common, it only made sense to extend home comforts to the office as well — and this resulted in the rise of the resimercial design. Corporate reception areas began looking more like cosy sitting rooms. The stark, functional pantries made way for more cheery office kitchens. The focussed work zones transformed into luxurious studies. The wanderlust felt by the younger generations found expression in hospitality-inspired office design elements and offerings — when they weren't enjoying a digital nomad lifestyle, people could come to the office and experience the thrill of being on a dream vacation. 
Airbnb Gurgaon, for instance, flaunts an office space designed like the most popular Airbnb properties around the world. Meanwhile, over at the Hilton Singapore office, employees and guests can enjoy the most luxurious, hotel-like experiences every day — be it through Insta-worthy food and beverage options, customisable work nooks, or the array of wellness offerings. Apart from catering to the excitement around travel, the resimercial and hospitality-driven elements also enabled us to look after comfort and wellness in the workplaces we conceptualised in these years.
2020 to 2021
Cut to the present. We witnessed a global pandemic and lived through the stress and anxiety that came with it. As a community, we were forced to go back to our roots, examine our values and remind ourselves of what was truly important. The verdict was unanimous — employers, employees and organisations around the world realised that there was an immediate need to prioritise health and wellbeing. Sustainability became a way of life, rather than a boutique offering. Here at Space Matrix, we responded by developing WELLocity Wave — a holistic wellness programme that keeps physical health, mental health and overall well-being at the core of every design and workplace initiative.
As offices around the world started reopening gradually, we had to appreciate the true power of choice. Different people navigated the aftermath of the lockdowns in different ways — and companies that respected and catered to their employees' needs emerged as winners over those that didn't. To enable and facilitate more hyper-dynamic, choice-driven workplaces, we developed the Space Matrix [β] Lab — which is our flagship studio for constant experimentation and evolution. Of course, in keeping with the strong focus on sustainability and wellness, the [β] Lab embraces WELL standards too. Be it with the sunlit spaces, the natural views, the multi-sensory design appeal or the materials used in construction, the [β] Lab goes to show what can be achieved when user well-being is kept at the core of one's workplace strategy.
This brings us to where we are today. Work has obviously changed a lot over these two decades — in fact, it doesn't even look like it did this time last year. But at Space Matrix, we are honoured to have been able to trace those changes — and even play our own part in shaping some of them. Now, we can't wait to see what the next 20 years will bring. Our CEO Arsh Chaudhry aptly sums it up, when he says,
"It is important to not only reflect on the past, celebrate successes and learn from our mistakes, but also anticipate and analyse future opportunities and challenges. The past 12 months have accelerated the pace of digitisation, redefined what the office stands for, put a focus on diversity and inclusion, and brought sustainability to the centre of every conversation. Our global strategy aligns very well with all of these trends — and we shall continue to focus on partnering with our clients to provide meaningful solutions."
Curious about the future of the workplace? Speak to our team today.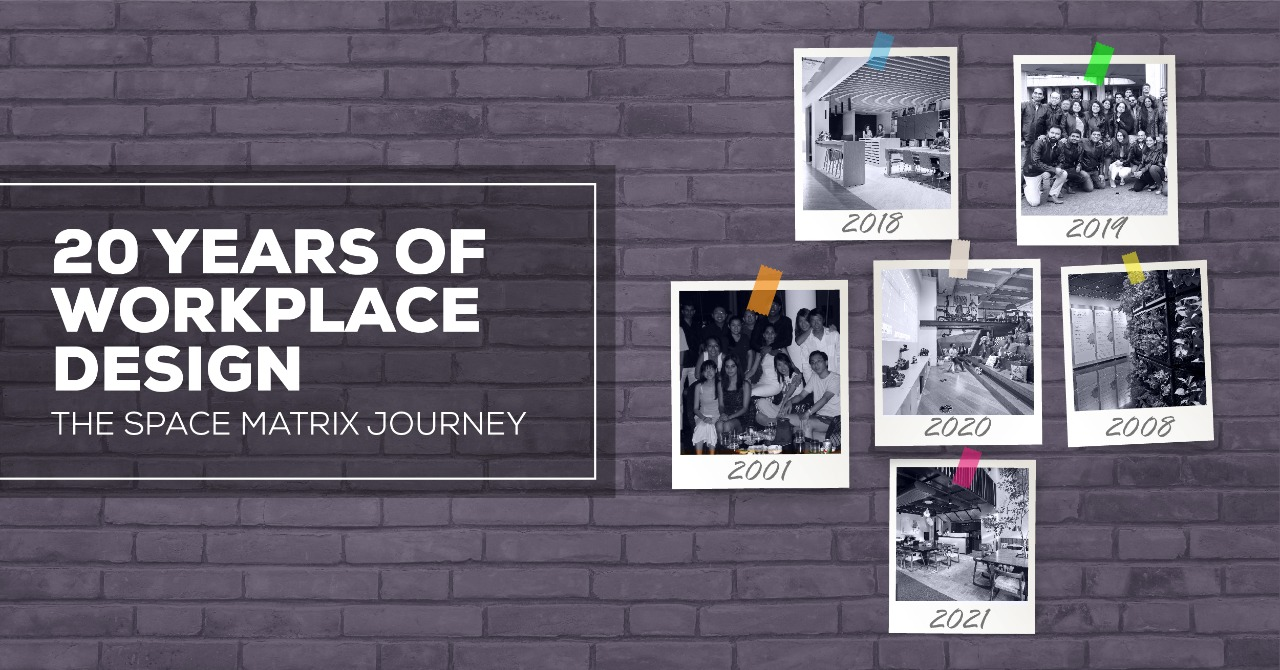 Right from the 2000s, when office casual was beginning to make an impact, to the 2020s where well-being and choice-driven workplaces are becoming the norm, the workplace has changed a lot over the years. Trace the evolution of the workplace in the past 20 years, with Space Matrix.
Published at Sun, 11 Apr 2021 07:38:28 +0000
Originally Posted at: 20 years of workplace design: The Space Matrix journey