A Sanitation Worker's Entire Routine, from Waking Up to Trash Collection | Allure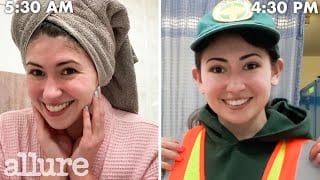 Nicole Doz, a New York sanitation worker, shares her entire daily routine, including all the measures she takes to protect her skin and hair from the elements while on the job. As a DSNY worker and pageant queen she explains how to have cute and safe nails while working. She also explains the importance of stretching and staying fit in order to do her job. From putting on her uniform to hosing down her street sweeper, Nicole shows us how busy and fulfilling days on the job can be.
*All products featured on Allure are independently selected by our editors or contributors. However, when you buy something through our retail links, we earn an affiliate commission.
Lush Breathe of Fresh Air Toner
https://fave.co/3ovB9ox
Cetaphil Lotion
https://amzn.to/3hDRq9F
CoverGirl TruNaked Eyeshadow Palette
https://shop-links.co/1741007714652016233
The Original MakeUp Eraser
https://shop-links.co/1741007761978912043
Neutrogena Oil-Free Acne Wash Cream
https://shop-links.co/1741007846138919929
Alchemist Rose Water (I can't tell what this product is)
Estee Lauder Advanced Night Repair Synchronized Multi-Recovery Complex Serum
https://shop-links.co/1741007956642690661
Estee Lauder Revitalizing Supreme Global Anti-Aging Crè
Still haven't subscribed to Allure on YouTube? ►► http://bit.ly/AllureYouTubeSub
ABOUT ALLURE
The best daily makeup tips, skin-care advice, hair tutorials, product reviews, and videos from beauty experts.
A Sanitation Worker's Entire Routine, from Waking Up to Trash Collection | Allure