As India Unlocks, What's The Future Of 'Work From Home'? | FYI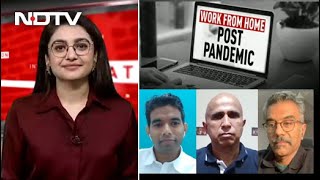 The list of companies adopting the 'Work From Home' policy completely is growing in India. This episode of FYI explores which companies are leading the way, what will be the working model for the future and what are the global indicators.
About Us: NDTV brings you unbiased and comprehensive coverage of news and entertainment programmes in India and abroad. NDTV delivers reliable information across all platforms: TV, Internet and Mobile.
Subscribe to our channels:
NDTV: https://www.youtube.com/user/ndtv?sub_confirmation=1
NDTV India (Hindi News): https://www.youtube.com/user/ndtvindia?sub_confirmation=1
Follow us on Social Media:
Like us on Facebook: https://www.facebook.com/ndtv/
Follow us on Twitter: https://twitter.com/ndtv/
Follow us on Instagram: https://www.instagram.com/ndtv/
Join NDTV on Telegram Messenger: https://t.me/NDTVbot/?start=hi
Follow us on Google News for Breaking and Latest News Updates:
NDTV: https://bit.ly/3e5ngbP
NDTV India (Hindi News): https://bit.ly/3mNVwMY
Download NDTV Mobile Apps:
http://www.ndtv.com/page/apps
Watch More Videos:
http://www.ndtv.com/video?yt
#FYI