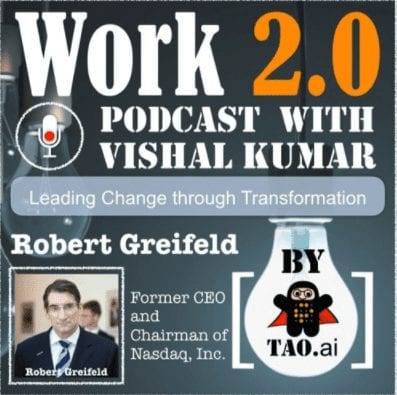 Bob Greifeld (Former CEO/Chairman @Nasdaq) on leading the market through transformation
Podcast Link: https://podcasts.apple.com/us/podcast/bob-greifeld-former-ceo-chairman-nasdaq-on-leading/id1207582205?i=1000475303480
In this podcast, Bob Greifeld discussed the importance of understanding the transformation and leading the companies through it. Bob shared his journey of growing Nasdaq through changing market times and taking the company through intense market pressure and product competition. The session is an excellent watch for aspiring leaders preparing a team that plays a significant role in defining jobs of the future.
Bob's Recommended Read:
Lincoln on Leadership: Executive Strategies for Tough Times by Donald T. Phillips https://amzn.to/2K0h18Q
Podcast Link:
iTunes: http://math.im/jofitunes
Youtube: http://math.im/jofyoutube
Bob's BIO:
Robert Greifeld is Chairman of Virtu Financial, Inc. He previously served as Chairman of the Board of Directors of The Nasdaq Stock Market LLC ("Nasdaq") until May 10, 2017, and as Chief Executive Officer of Nasdaq from 2003 to 2016. During his tenure, Mr. Greifeld led Nasdaq through a series of complex, innovative acquisitions that extended the company's footprint from a single U.S. equity exchange to a global exchange and technology solutions provider, nearly quadrupling revenue, growing annual operating profits by more than 24 times and achieving a market value of over $11 billion. Mr. Greifeld is a member of the Economic Club of New York and the NYU Stern Board of Overseers. He is Founder and Chairman of the USA Track & Field Foundation, which supports emerging athletes and inner-city youth athletics. Mr. Greifeld holds a Masters in Business from New York University, Stern School of Business, and a B.A. in English from Iona College.
Some Questions we talked about:
Explain your journey to your current role?
Could you share something about your current position?
What does your company do?
Why write a book?
What are some of the thoughts that triggered this book?
You lead Nasdaq during the digital disruption of WallStreet, what are some of the learnings there?
What are some challenges of leading an organization through a transformation?
When things are north, anything could be stick with a winning strategy, how do you sell when things are dire?
What are some of the hacks to find your best hires?
You start with People first, why and how could you ensure that?
In triage, you talk about the leader's instinct, what is that and how would you ensure you have a robust and sustained availability to leader's ability?
What the psychology of buying a competitor like BRUT? What goes into that decision?
What are somethings leaders do wrong in their decision-making journey?
You talked about institutionalizing innovation, how could one do that?
What is your secret recipe for hiring a leader?
What is the most exciting sector of the industry right now?
What moves or strategies do you think companies are missing?
What are 1-3 best practices that you believe is the key to success in your journey?
Do you have any favorite read?
As a closing remark, what would you like to tell our audience?
About #Podcast:
Work 2.0 Podcast is created to spark the conversation around the future of work, worker, and workplace. The world's leading practitioners, influencers, authors, academicians, entrepreneurs, and leaders are stepping up to add their thoughts to the conversation. The podcast is created to help professionals navigate their career journeys through transformative times. This podcast invite movers and shakers in the industry who are shaping or helping us understand the transformation in work.
Wanna Join?
If you or any you know wants to join in,
Register your interest by emailing: info@analyticsweek.com
Want to sponsor?
Email us @ info@analyticsweek.com