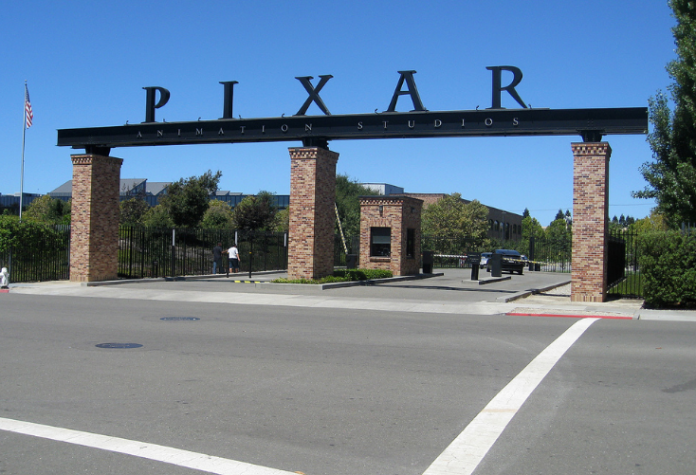 Hand selected flexible workspace news from the most reliable sources to keep you ahead of the pack. We find all the latest news, so you don't have to. Morning and afternoon updates. Stay in the know.
---
Here's what you need to know today:
---
The Importance Of Workplace Community
After Steve Jobs led Graphics Group through a major rebrand, it became Pixar Animation Studios and opened a new studio near Oakland, California.
The studio features an atrium, meeting rooms, cafes, social areas and more. While it was first viewed as excessive, workers soon realized that they had full access to an appropriate space that allowed them to collaborate and exchange creative ideas.
It was clear that Jobs had an understanding of the importance of workplace community and how the office itself plays a role in curating that.
However, in wake of the ongoing pandemic, people have been left with no choice but to retreat to their homes for the time being.
Research has found this to be detrimental to overall wellbeing, with 40% of British workers saying that working from home made them miss every day office banter.
While it is unclear when we'll be able to enjoy socializing with our colleagues again, leaders can still take the steps needed to nurture community when working from home that goes beyond meeting up for Zoom happy hours.
Flexible offices provide the ideal solution to this problem as companies do not have to take out long-term leases and can allow their employees to gather for meetings or collaboration.
Using these fully-equipped workspaces provides workers the ability to congregate in a safe, secure office, while still enjoying the perks of remote working.
---
Workers Prioritize Work-life Balance Over Pay
According to a new survey of UK office workers conducted by OnePoll on behalf of software company Citrix, 75% of employees would take a pay cut in return for a job that offered remote working options.
In fact, the analysis found that workers would be willing to take a 14% salary cut if they were allowed to work from anywhere.
This research indicates that office workers have spent the last several months realizing that they prefer a healthy work-life balance and the ability to choose their workspace over income.
The findings also revealed that workers between the ages of 45 and 54 would take the largest pay cut of 16%, while 17% of this age group would accept more than a 25% pay reduction.
"We're now in a world where employees have seen the potential that remote working holds to improve their work/life balance – so much so that they're willing to forgo a significant portion of their salaries to achieve this on a permanent basis," said Darren Fields, regional vice president of UK & Ireland at Citrix.
Although flexible and remote working policies were once met with much skepticism from companies, many have realized that productivity and employee satisfaction levels have either maintained or grown since transitioning to these arrangements.
Knowing this, it is clear that remote working will continue to play an essential role in the new normal of working. 
---
Sweden's One-minute City Features A More Local Approach
The concept of the "15-minute city" was magnified after lockdown forced people to retreat into their homes for an unspecified amount of time.
The idea stems from creating a neighborhood that provides residents access for their daily needs within a short walk or bike's distance.
Doing so can help cut down on greenhouse emissions, increase the livability of certain cities and help support local businesses.
Some cities and countries have already adopted this model, but Sweden is turning the concept on its head. 
The country is working to expand these neighborhoods, led by national innovation body Vinnova and design think tank ArkDes.
Dan Hill, Vinnova's director of strategic design, calls this plan the "one-minute city" as it is smaller than other local neighborhood concepts. While some cities like Paris use a 15-minute radius, Sweden hopes to operate Street Moves on a single street level.
With this plan, local communities will be able to become co-architects of their neighborhoods through workshops and consultations. They have a say in how streets are utilized, the amount of parking and other public usage.
While other 15-minute concepts typically focus on meeting the needs of local residents, Sweden's model aims to find more direct ways to engage with the public.
This strategy emphasizes the portion of city just outside your door, which has become prevalent over the last several months as lockdowns worldwide have forced people to stay and work from home. 
"Here, you have the most regular and direct participation, responsibility and interaction, merely propped up on propinquity," said Hill.
---
WeWork Outlines Steps For Survival During The Pandemic
WeWork has outlined new steps to keep it afloat through the pandemic after its typical model of aggressive expansion left it with huge vacancies
In 2019, accounts filed at the UK's Companies House found that WeWork International had losses of £234 million. Once the pandemic hit, the income from users of its spaces quickly shriveled up.
According to a statement from WeWork, the company "expects there will be a material impact on the global demand" for its services.
Collecting and actually accruing rent has become immensely more difficult as employees largely work from home and demand for these spaces dwindles.
However, WeWork said its parent company WeWork Inc. had enough cash reserves to withstand the uncertainty the future may hold. Still, the company did not specify any concrete plans to confront the inevitable growth of remote working policies.
The company did say it would adapt to the evolving needs of their customers "as they consider a return to work in the coming months."
"These enhancements include implementing professional distancing standards, de-densifying common areas, and reconfiguring offices," the company added.
For now, the operator will pause opening new offices and instead invest into marketing and maintenance during this time.
It will also have to renegotiate the terms of leases with commercial landlords in hopes of deferring or reducing rents.
---
The Future Of Coworking Is In Limbo
The future of coworking has been hanging in limbo as the pandemic continues to threaten the safety and health of civilians worldwide.
According to David Wiener, senior vice president of Colliers' West Michigan office, the coworking market remains at a standstill or is completely shut down.
"There are a number of issues that we're seeing," said Wiener. "It could depend a lot on what type of regulations there are locally or from the state. In 2021, if a lot of people can get the vaccine and get people back to work, then I think things will change. But right now most people are seeing coworking not coming back fully until 2022."
While the coworking industry is taking a major hit now, some analysts believe that they could lend a helping hand for companies looking to cut down on long-term leases and adopt flexible options for their employees.
For Holland, Michigan-based Treehuis, members who were only using their space a few times a week have opted out.
However, owner Brian Burch is still optimistic about the future of the coworking model as an alternative workspace outside of the traditional office or home.
"They just have to get out of the house, and you can't just go to coffee shops or to the places they are used to going to get work done," said Burch. "What we've done our best at is to create those private spaces where members are not sharing the same area with people like they once were."
---
All Eyes Are On Corporate Real Estate Leaders
Corporate real estate is at the center of attention as society navigates how to create a more distributed, flexible workforce.
According to Cushman & Wakefield's Ecosystems of the Future report, this might mean a network of offices across cities large and small.
This is also commonly referred to as a hub-and-spoke model in which companies allow employees to work from home, access a core office for all-hands meetings and provide them with smaller offices closer to their homes.
Using a spoke office allows employees to still have shorter commutes, as well more socialization opportunities than they get when working from home.
Adopting this model meaning thinking through when and how to bring people together in order to maintain communication and culture. 
Using technology not only aids in improving connections between distributed colleagues, but it also helps companies gather real-time data to have a deeper understanding of workspace usage and thus improve the employee experience.
"Investing in this new redefined workplace will be a competitive advantage to attract and retain the best and brightest," said Stuart Harris, principal at business consulting at interior architecture and design firm PDR. "Once the economy comes back, talent will hold the upper hand, and employees will pick and choose organizations that invested in people through compelling work settings and flexible work models. Owners should prepare buildings to support and enhance these tenant strategies."
Share this article
The post Daily Digest News – January 7, 2021 first appeared on AllWork.Space.
Originally posted at: https://allwork.space/2021/1/daily-digest-news-january-7-2021?utm_source=rss&utm_medium=rss&utm_campaign=daily-digest-news-january-7-2021