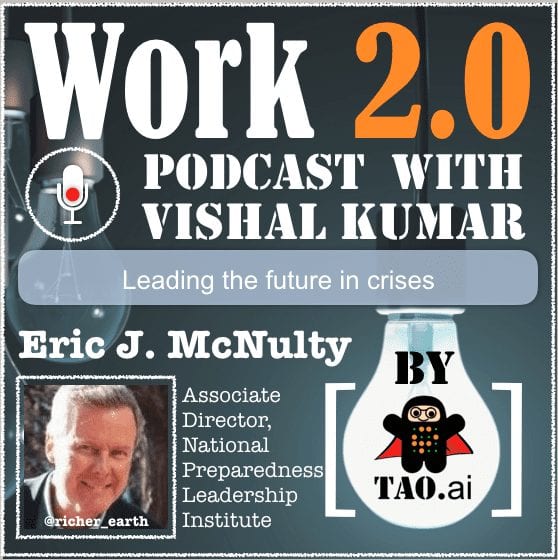 Eric McNulty (@richer_earth) on leading the future in crises on Work 2.0 Podcast #FutureofWork #Work2dot0 #Podcast
[embedyt] https://www.youtube.com/watch?v=pPGpNulRXa4 [/embedyt]
In this podcast, Eric McNulty (@richer_earth) discussed the importance of listening as a leader and shared some views on how businesses and government bodies could handle crises. This is a great conversation on crisis management. A must recommend for leaders who work in the forefront and had to deal with crisis management.
Eric's Recommended Read:
Lincoln on Leadership: Executive Strategies for Tough Times by Donald T. Phillips https://amzn.to/2K0h18Q
Podcast Link:
iTunes: http://math.im/jofitunes
Youtube: http://math.im/jofyoutube
Eric's BIO:
ERIC J. MCNULTY, MA, serves as associate director for the National Preparedness Leadership Initiative and the Harvard T. H. Chan Program for Health Care Negotiation and Conflict Resolution and is also an instructor at the Harvard T. H. Chan School of Public Health. A contributing editor and columnist at Strategy+Business magazine, he has written for Harvard Business Review, among many noted publications and websites. He is the co-author of the second edition of Renegotiating Health Care: Resolving Conflict to Build Collaboration.
About #Podcast:
Work 2.0 Podcast is created to spark the conversation around the future of work, worker, and workplace. This podcast invite movers and shakers in the industry who are shaping or helping us understand the transformation in work.
Wanna Join?
If you or any you know wants to join in,
Register your interest by emailing: info@analyticsweek.com
Want to sponsor?
Email us @ info@analyticsweek.com
Keywords:
Work 2.0 Podcast,
#FutureOfWork,
#FutureOfWorker,
#FutureOfWorkplace,
#Work,
#Worker,
#Workplace,