Ethical Responsibilities in the Workplace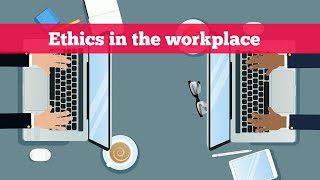 Everyone has a responsibility for ethics in the workplace. You the employee or supervisor as well as the company have to ensure that you are responsible for your behaviour and that you support others by creating a positive ethical workplace for everyone. You need to know, understand, and comply with your code of conduct, ask questions and get the facts straight, and be aware of the behaviour of others that may be illegal or unethical. If needed, you need to counsel other employees when they are in danger of violating ethical codes and do whatever you can to contribute to an environment that upholds the high ethical standards of the company. If you are a manager you should lead by example and make sure everyone understands the company's ethics codes and policies. It is your responsibility to maintain an environment where employees can talk about ethics issues without fear of reprisal. Of course, the company must do its part too by developing and supporting strong ethics programs and maintaining good working conditions that support the employee's responsibilities.
If you find yourself in an unethical situation, you need to promptly report it to your supervisor, HR manager, or company officer. Your confidentiality will be protected and reprisals will not be tolerated. Be sure to document as much as you can including the date, time, location, witnesses, specific violations, and actions that were taken. The bottom line is that you need to talk to someone.
===============================
Let us help your company build a culture of integrity! For business ethics & compliance training courses, e-learning, on-site training, and employee reporting systems,
📞 Call us at 1-877-77ETHIC or
🌐 Visit us at http://globalethicssolutions.com.
🔔 Subscribe for more tips just like this:https://www.youtube.com/channel/UC_r-3nRot7wM0IrCJZ3LW2g
===============================
✅ Let's Connect: Social Media!
🐦 Twitter: @globalethics1
👥 Facebook: https://www.facebook.com/globalethicssolutions
​💎 LinkedIn: https://www.linkedin.com/company/global-ethics-solutions-llc
#EthicalResponsibilities #GlobalEthicsSolutions