Exclusive: See Inside Google's Reimagined Workplace | TODAY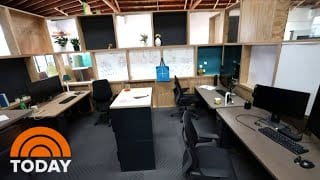 As employers reimagine office spaces post pandemic, NBC News technology correspondent Jacob Ward received an exclusive look at Google's design ideas, including outdoor workplaces and meeting areas that incorporate remote and in-person workers equally.
» Subscribe to TODAY: http://on.today.com/SubscribeToTODAY
» Watch the latest from TODAY: http://bit.ly/LatestTODAY
About: TODAY brings you the latest headlines and expert tips on money, health and parenting. We wake up every morning to give you and your family all you need to start your day. If it matters to you, it matters to us. We are in the people business. Subscribe to our channel for exclusive TODAY archival footage & our original web series.
#Google #Workspaces #Offices
Connect with TODAY Online!
Visit TODAY's Website: http://on.today.com/ReadTODAY
Find TODAY on Facebook: http://on.today.com/LikeTODAY
Follow TODAY on Twitter: http://on.today.com/FollowTODAY
Follow TODAY on Instagram: http://on.today.com/InstaTODAY