Future of Work 2021 | Panel discussion on The future of work is Hybrid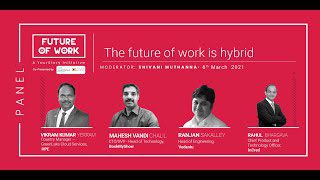 It's becoming increasingly clear that there's no going back to the pre-pande"mic status quo for digital workplace initiatives. Large numbers of employees have adjusted successfully to working remotely. Many businesses are looking for new ways to support online productivity and strengthen business resiliency with remote capabilities while ensuring a safe return to work for on-site employees.
So what does the future of work look like?
This panel featuring Mahesh Vandi Chalil, CTO/SVP – Head of Technology, BookMyShow; Bharat Krishnamurthy, Vice President – Engineering, Paytm; Ranjan Sakalley, Head of Engineering, Vedantu; Rahul Bhargava, Chief Product and Technology Officer, InCred; and Vikram Yerram, Country Manager – GreenLake Cloud Services, HPE discusses the future of work systems as organisations plan return to work strategies at Future of Work, India's largest product-tech-design conference.