Future of Work | Edie Weiner | SingularityU Australia Summit 2018 | Singularity University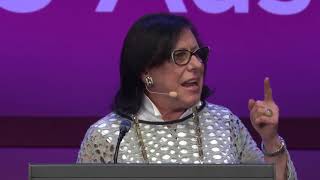 Edie Weiner is President and CEO of The Future Hunters, a leading futurist consulting group. Formed in 1977 as Weiner, Edrich, Brown, The Future Hunters has served over 400 clients in identifying opportunities in strategic thinking, product development, marketing, investment, human resources, and change management. The Future Hunters' clients range from national governments to Fortune 500 companies.
Subscribe: http://bit.ly/1Wq6gwm
Connect with Singularity University:
Website: http://su.org
Hub: http://singularityhub.com
Facebook: https://www.facebook.com/singularityu
Twitter: https://twitter.com/singularityu
Linkedin: https://www.linkedin.com/company/singularity-university
About Singularity University:
Singularity University is a benefit corporation headquartered at NASA's research campus in Silicon Valley. We provide educational programs, innovative partnerships and a startup accelerator to help individuals, businesses, institutions, investors, NGOs and governments understand cutting-edge technologies, and how to utilize these technologies to positively impact billions of people.
Singularity University
http://www.youtube.com/user/SingularityU