Is This What The Future Job Market Looks Like? | Jason Campbell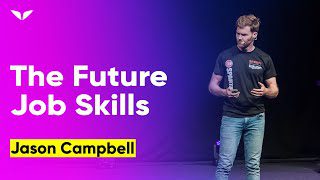 Use your FREE Mindvalley university access to understand how new technology is disrupting jobs and how you can stay ahead of the curve. Click here:👉 https://go.mindvalley.com/All-Access
Are you afraid of your skills being declared redundant as new technology emerges and the job market changes? Don't panic! Jason Campbell explores professions of the future in this video. And talks about some of the job skills that will remain or emerge even as the landscape changes.
Jason also shares how we'll work collaboratively with machines and artificial intelligence in the future. You don't want to miss that!
Thinking about the future of employment and future jobs can be scary. There's some uncertainty tied to it. But once you watch this video, you'll operate from a place of abundance and understanding. And you'll learn how to position yourself in the midst of technological expansion.💻
Video timestamp:
[3:17] The top skills that will be needed in 2022.
——
About Jason Campbell:
✅ Jason Campbell is the Host of Mindvalley's Superhumans at Work podcast.
✅ Every week Jason spends time learning and interviewing the best minds in productivity through the Superhumans at Work Podcast.
✅ He has gone into deep interviews with the likes of Nir Eyal, Cameron Herold, James Clear, Sam Carpenter, Dr. John Demartini and so many more.
About the masterclass:
– Experience the 3-minute Conscious Self meditation – Access your intuition with ease and download rapid insights that will lead you to unlocking your higher self.
– Life's 3 Big Pillars: A Framework for Flow – Learn how to make personal growth your constant state, so your personal transformations occur daily on a subconscious, intuitive, and automatic level.
– How to master your emotional states – Discover how you can stay in the driver's seat of your life so you can bring more conscious intent into building your ideal and extraordinary life.
– Permanently accelerate your rate of transformation – Apply certain key principles to supercharge your personal growth and you'll see tangible change in all areas of your life day by day.
– By the end of this Masterclass, you will walk away with the tools and techniques you need to automate your personal growth and unlock your extraordinary potential.
——
Free Masterclass: Are you curious about the next big thing in the job market? And how to prepare for future jobs? 💭 Welcome to the university of future skills, where you'll learn all you need to stay ahead of the curve. Here:👉 https://go.mindvalley.com/All-Access
——
🆕 NEW VIDEOS OUT EVERY WEEK
#Subscribe #Nextbigthing #JasonCampbell