January 7, 2022: Biden's vaccine mandate, COVID-19 vaccine program, Kazakhstan, jobs, Ahmaud Arbery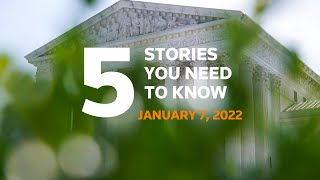 January 7, 2022: The U.S. Supreme Court will hear challenges to Biden's vaccine mandate, HHS looks unprepared to take on COVID-19 vaccine program, Kazakhstan's president orders troops to open fire without warning, U.S. job growth appears to be up, not reflecting the impact of Omicron, Sentencing in Ahmaud Arbery trial
1. The U.S. Supreme Court considers whether to halt Biden's vaccine mandates for employers with more than 100 workers and healthcare facilities. 
2. The U.S. Department of Health and Human Services appears unprepared to assume full responsibility for the nation's COVID-19 vaccine program.
3. Kazakhstan's president has ordered his forces to shoot-to-kill to deal with disturbances caused by a countrywide uprising.
4. U.S. employment growth likely picked up in December culminating in record job creation in 2021 but the labor market could temporarily lose its luster as raging COVID-19 infections cause disruptions at businesses and schools.
5. The three men who were convicted of murdering Ahmaud Arbery are due to be sentenced to life in prison on Friday.
#MorningNews
#SCOTUS
#VaccineMandate
#Biden
#COVID
#Omicron
#Coronavirus
#Kazakhstan
#HHS
#Vaccine
#jobs
#Economy
#LaborMarket
#AhmaudArbery
#VaccineMandate
#News
#Reuters
Subscribe: http://smarturl.it/reuterssubscribe
Reuters brings you the latest business, finance and breaking news video from around the globe. Our reputation for accuracy and impartiality is unparalleled.
Get the latest news on: http://reuters.com/
Follow Reuters on Facebook: https://www.facebook.com/Reuters
Follow Reuters on Twitter: https://twitter.com/Reuters
Follow Reuters on Instagram: https://www.instagram.com/reuters/?hl=en