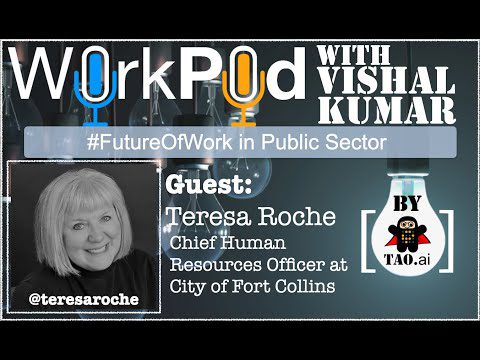 In this podcast, Teresa Roche, CHRO @ City Of Fort Collins discussed running a diverse organization and some challenges that go with running a diversified workforce. She also shared some challenges and opportunities of running a public sector organization. A must watch/listen for leaders seeking ideas/challenges/opportunities running a diverse organization.
Introduction:
Teresa Roche is currently the Chief Human Resources Officer for the City of Fort Collins a position she thought about long before being asked to serve in this role. After being in Leadership Fort Collins in 2008 Teresa reflected on how working to create and sustain healthy inclusive and economically viable communities can change the world and she hoped someday she would be more directly involved and not just through her volunteering efforts. The City uses the Triple Bottom Line framework which includes social environmental and economic factors to guide their work which aligns deeply with Teresa's values.
Here's the GPS for the questions (These are just the boundaries questions to give a rough journey for the conversation):
Segment 1: Lead-in
1. Starter: Give your starter pitch 1 point that you wish as a central theme.
2. Vishal briefly introduce guest
Segment 2: State of organizations
3. What is the state of organizations today?
4. How to control an organization when the control lies outside[pandemic]
5. How is automation impacting the state of organizations?
6. What does it mean to learn/develop a worker, in the age of work?
7. Name an inspirational role model when it comes to organizations led around people?
8. How to lead an organization into the future?
9. What is the role of a leader in #FutureOfWork
10. What are some common traits that you see inspiration leaders have?
11. How to handle toxic leadership?
12. People get hired for culture but leave for managers, how to bridge the gap?
13. Who is your inspirational role model when it comes to leaders leading organizations into the future?
Segment 3: Rapid Fire [Say what comes to your mind quickly]
14 a. #FutureOfWork
14 b. #Technology
14 c. #Leadership
14 d. #RemoteWork
14 e. #Equity
14 f. #Diversity
14 g. #Legislature
14 h. #JobsOfFuture
14 i. #FutureOfLearning
14 j. #Something exciting
14 k. #Things that keep you up at night?
Segment 4: Your personal journey
15. What are 1-3 best practices that you think are the key to success in your journey?
16. Do you have any favorite read?
17. As a closing remark, what would you like to tell our audience?
About TAO.ai[Sponsor]:
TAO is building the World's largest and AI-powered Skills Universe and Community powering career development platform empowering some of the World's largest communities/organizations. Learn more at https://TAO.ai
About WorkPod:
Work Pod takes you on the journey with leaders, experts, academics, authors, and change-makers designing the future of work, workers, and the workplace.
About Work2.org
WorkPod is managed by Work2.org, a #FutureOfWork community for HR and Organization architects and leaders.
Sponsorship / Guest Request should be directed to info@tao.ai
Keywords:
#FutureofWork #Work2.0 #Work2dot0 #Leadership #Growth #Org2dot0 #Work2 #Org2