The Future of Employment – The Impact of AI and Automation on Jobs – with Oxford Prof Carl Frey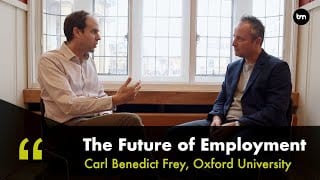 In this conversation I speak with Carl Frey from Oxford University, who is the author of one of the most influential studies on the impact of AI, robotics and automation on jobs and the future of employment. The study found that 47% of jobs could be automated using technology. Here we look into this in more details and how to prepare for this future of automation…
If you would like more information on this topic, please feel free to visit my website and sign up for content updates! I write articles every week on various different topics such as Big Data, AI and Key Performance Indicators.
Visit the Artificial Intelligence & Machine Learning topic page https://www.bernardmarr.com/default.asp?contentID=1314
Thanks for watching!