The future of work and life after coronavirus crisis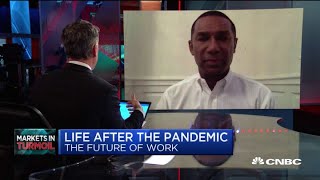 Society of Human Resource Management President & CEO Johnny Taylor discusses what work life will look like once the crisis is over.
For more coronavirus live updates:
https://www.cnbc.com/2020/04/13/coronavirus-latest-updates.html
For access to live and exclusive video from CNBC subscribe to CNBC PRO:
https://cnb.cx/2JdMwO7
» Subscribe to CNBC TV: https://cnb.cx/SubscribeCNBCtelevision
» Subscribe to CNBC: https://cnb.cx/SubscribeCNBC
» Subscribe to CNBC Classic: https://cnb.cx/SubscribeCNBCclassic
Turn to CNBC TV for the latest stock market news and analysis. From market futures to live price updates CNBC is the leader in business news worldwide.
Connect with CNBC News Online
Get the latest news: http://www.cnbc.com/
Follow CNBC on LinkedIn: https://cnb.cx/LinkedInCNBC
Follow CNBC News on Facebook: https://cnb.cx/LikeCNBC
Follow CNBC News on Twitter: https://cnb.cx/FollowCNBC
Follow CNBC News on Instagram: https://cnb.cx/InstagramCNBC
#CNBC
#CNBC TV