The Miracle Worker (3/10) Movie CLIP – Helen's First Lesson (1962) HD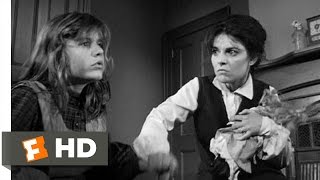 The Miracle Worker movie clips: http://j.mp/11biTBC
BUY THE MOVIE: http://j.mp/1bW3sl6
Don't miss the HOTTEST NEW TRAILERS: http://bit.ly/1u2y6pr
CLIP DESCRIPTION:
When Annie (Anne Bancroft) teaches Helen (Patty Duke) her first lesson, she hits Annie in the face with her doll and locks her in the room.
FILM DESCRIPTION:
Based on William Gibson's Broadway play and retaining its acclaimed cast, Arthur Penn's The Miracle Worker tells the true story of Helen Keller (Patty Duke), an Alabama girl struck blind and deaf as a baby after an elevated fever. Enter Annie Sullivan (Anne Bancroft), a partially-blind woman assigned the task of teaching Helen sign language. After first separating Helen from her over-protective parents (Victor Jory and Inga Swenson), Annie begins the arduous process of teaching the girl.
CREDITS:
TM & © MGM (1962)
Cast: Anne Bancroft, Patty Duke
Director: Arthur Penn
Producer: Fred Coe
Screenwriters: Helen Keller, William Gibson
WHO ARE WE?
The MOVIECLIPS channel is the largest collection of licensed movie clips on the web. Here you will find unforgettable moments, scenes and lines from all your favorite films. Made by movie fans, for movie fans.
SUBSCRIBE TO OUR MOVIE CHANNELS:
MOVIECLIPS: http://bit.ly/1u2yaWd
ComingSoon: http://bit.ly/1DVpgtR
Indie & Film Festivals: http://bit.ly/1wbkfYg
Hero Central: http://bit.ly/1AMUZwv
Extras: http://bit.ly/1u431fr
Classic Trailers: http://bit.ly/1u43jDe
Pop-Up Trailers: http://bit.ly/1z7EtZR
Movie News: http://bit.ly/1C3Ncd2
Movie Games: http://bit.ly/1ygDV13
Fandango: http://bit.ly/1Bl79ye
Fandango FrontRunners: http://bit.ly/1CggQfC
HIT US UP:
Facebook: http://on.fb.me/1y8M8ax
Twitter: http://bit.ly/1ghOWmt
Pinterest: http://bit.ly/14wL9De
Tumblr: http://bit.ly/1vUwhH7