Tips on Professionalism [BE A WORKPLACE STANDOUT]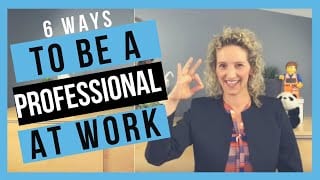 Tips on Professionalism [BE A WORKPLACE STANDOUT] /
PROFESSIONAL TIP OF THE DAY: You can always improve your professionalism! No matter where you are in your career, you've got to learn more about how to act professional. If you think you already know how to be professional at work, this video will surprise you with valuable tips on how to be more professional no matter what job you have.
This video has tips like:
– Ideas to become a workplace standout
– What is professionalism in the workplace
– Practical ideas for being professional at work
– Professionalism characteristics
– How to exhibit professional behaviour
This video will help you set up a list of professional behaviors and will give you ideas on how to teach professionalism in the workplace when you start leading by example. This video will help your professionalism in the workplace skyrocket so that you can be well known in your organization for great professional behavior.
➡️ B O N U S:
Download my free "How to WOW Your Boss" Guide: https://www.cornerstonedynamics.com/wow-your-boss/
➡️ F R E E T R A I N I N G! What's the secret to project management success? I'm answering that in my free training: 5 SECRETS TO GO FROM ZERO TO HERO IN PROJECT MANAGEMENT. Sign up here: https://www.slayprojectmanagement.com/webinar
➡️ TWEET THIS VIDEO: https://ctt.ac/72WED
➡️️ Videos mentioned:
Office Gossip: https://youtu.be/KWDPCR-G4IU
Running Effective Meetings: https://youtu.be/Xp0VAutGFyg
Positive Attitude at Work: https://youtu.be/XBcYVKn6RKg
If you liked this video, please give it a thumbs up, subscribe, share it with your friends.
➡️S A Y H I O N S O C I A L :
Website: http://www.CornerStoneDynamics.com/
Website: https://www.MyVisualVision.com/
Instagram: https://www.instagram.com/theadrianagirdler
LinkedIn: https://www.linkedin.com/in/adriana-girdler-cet-pmp-0a95484/
Facebook: https://www.facebook.com/CornerStoneDynamics
Thanks for watching my video "Tips on Professionalism": https://youtu.be/OuHJ7EExchY
#AdrianaGirdler
#ProfessionalismTips