Video shows healthcare worker accused of assaulting patient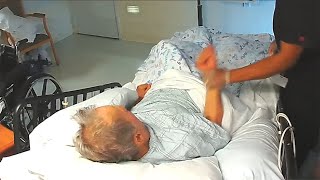 A family in New Jersey is accusing a health care worker of assaulting their elderly father while he drew their father's blood.
The incident happened in August at a long term care facility in Union City and was captured by surveillance video.
That video shows a phlebotomist, Rafael Manchego, drawing Benjamin Mejias' blood while he laid in his nursing home bed.
In the video, Manchego appears to struggle to put a bandage on the patient after drawing the patient's blood. Manchego appears to become frustrated with the patient, and shortly after, is captured twisting the patient's arm in a manner the patient's family describes as overly aggressive.
Danielle Leigh has more: https://7ny.tv/2kreXzC
—-
Check out more Eyewitness News – http://7ny.tv/2suJHTd
NEW HERE? –
Hi! We're abc7NY, also known as Channel 7 on TV, home to Eyewitness News, New York's Number 1 news. We hope you love us on YouTube as much as you do on television!
OUR SOCIAL MEDIA –
FACEBOOK: https://www.facebook.com/ABC7NY/
TWITTER: https://twitter.com/abc7ny
INSTAGRAM: https://www.instagram.com/abc7ny/
NEW TIPS:
Online: http://abc7ny.com/submit-a-news-tip/2599968/
Phone: 917-260-7700
Email: abc7ny@abc.com
#abc7NY #investigation #caughtoncamera