What Career Personality Are You? The Six Career Personality Types (Holland Codes)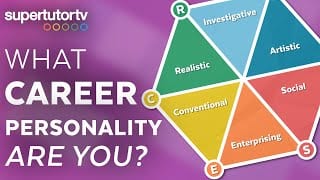 Special guest Michelle Cho, Co-Founder of Gladeo, speaks with Brooke about what career personality you are and the six career personality types.
Check out Gladeo on Youtube:
https://www.youtube.com/channel/UCRJxnmi7yXy9GPD0rkEAO1w
Here is the blog for this video: https://supertutortv.com/informational/what-career-personality-are-you-the-six-career-personality-types
Our SAT® course is out! Start prepping with Brooke today!
Need to prep for the ACT® instead?
The Best ACT® Math Books Ever are LIVE on Amazon.com now! Links below
Book 1: Algebra: https://amzn.to/2T47IIR
Book 2: Numbers, Stats, Trig & Geometry https://amzn.to/2u5iXH2
SUBSCRIBE NOW! And give us a thumbs up if you liked this video.
Subscribe to our mailing list!!
Learn more about SupertutorTV and all our test prep solutions at: https://supertutortv.com
Get more tips and tricks by following us!
https://www.facebook.com/supertutortv
Tweets by SupertutorTV
https://www.quora.com/profile/Brooke-Hanson-3
Learning Made Awesome!
Interested in private tutoring from a perfect scoring test prep expert? Check out http://www.brookehansontutoring.com or https://supertutortv.com/tutoring-information/ for more information!
Photo Credit:
Picture of U.S. President Barack Obama: NASA/Bill Ingalls
Telemarketing Sales Rep Cubicle: www.listshack.com
Additional Photos from Unsplash, Pixabay and Peels
This video was not sponsored by Gladeo. Gladeo is a non-profit organization and we just thought what they do would be of value to our awesome viewers.