What Does the Future of Work Look Like? | The Overview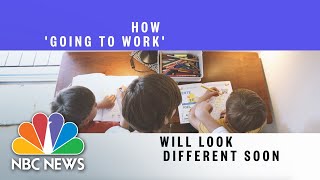 Gadi Schwartz on how mixed reality could be the next conference room; Simone Boyce talks women and work.
To see more episodes of "The Overview," Download Peacock: https://www.peacocktv.com/watch/asset/news/the-overview/5743761012582170112
» Subscribe to NBC News: http://nbcnews.to/SubscribeToNBC
» Watch more NBC video: http://bit.ly/MoreNBCNews
NBC News Digital is a collection of innovative and powerful news brands that deliver compelling, diverse and engaging news stories. NBC News Digital features NBCNews.com, MSNBC.com, TODAY.com, Nightly News, Meet the Press, Dateline, and the existing apps and digital extensions of these respective properties. We deliver the best in breaking news, live video coverage, original journalism and segments from your favorite NBC News Shows.
Connect with NBC News Online!
NBC News App: https://apps.nbcnews.com/mobile
Breaking News Alerts: https://link.nbcnews.com/join/5cj/breaking-news-signup?cid=sm_npd_nn_yt_bn-clip_190621
Visit NBCNews.Com: http://nbcnews.to/ReadNBC
Find NBC News on Facebook: http://nbcnews.to/LikeNBC
Follow NBC News on Twitter: http://nbcnews.to/FollowNBC
Follow NBC News on Instagram: http://nbcnews.to/InstaNBC