What future of jobs do we want to build?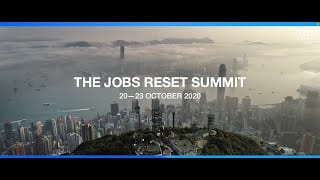 After years of growing income inequality, concerns about technology-driven displacement of jobs, and rising societal discord globally, the combined health and economic shocks of 2020 have put economies into freefall, disrupted labour markets and fully revealed the inadequacies of our social contracts.
As we emerge from the crisis, we can proactively shape more inclusive, fair and sustainable economies, organizations, societies and workplaces. To do so, we must mobilize the best of human capabilities, technologies, innovative policies and market forces in service of this new vision.
The World Economic Forum's Jobs Reset Summit is serving as key milestone in supporting such a mobilization, working closely with partners around the world.
Learn more: wef.ch/jobs-reset-summit
World Economic Forum Website ► http://www.weforum.org/
Facebook ► https://www.facebook.com/worldeconomicforum/
YouTube ► https://www.youtube.com/wef
Instagram ► https://www.instagram.com/worldeconomicforum/
Twitter ► https://twitter.com/wef
LinkedIn ► https://www.linkedin.com/company/world-economic-forum
TikTok ► https://www.tiktok.com/@worldeconomicforum
Flipboard ► https://flipboard.com/@WEF
#WorldEconomicForum #JobsResetSummit