What Is Diversity In The Workplace?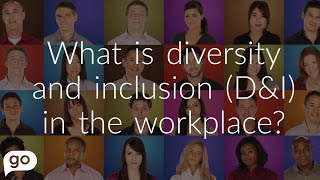 Workplace diversity is a common topic of conversation amongst employers, hiring managers and recruitment professionals. But what is diversity in the workplace?
Diversity and inclusion in the workplace isn't just a hiring fad; and over the years it has become less a case of simply factoring in age, gender and race, and more about hiring a wider range of people to add value to businesses.
What is the importance of diversity in the workplace? Diversity and inclusion are a vital part of workplace culture; increasingly, business leaders are seeing that encouraging diversity in the workplace has several tangible benefits, not only for the wellbeing of a company's employees, but will also benefit the business itself.
Companies across a range of industries are embracing a more diverse workforce; but with these benefits also come some key obstacles to overcome, as there are many challenges of managing diversity in the workplace.
Find the sources for the statistics in the video here: https://www.giveagradago.com/news/2019/08/what-is-diversity-in-the-workplace/424
_____________________________
In this diversity & workplace inclusion video we look at:
► Diversity in the workplace definition & explanation
► The benefits of diversity in the workplace as well as the competitive edge it can give your business and benefits of diversity in the workplace statistics
► The main challenges of diversity in the workplace that employers might face, both before and after the implementation process
► How to promote diversity in the workplace. along with D&I strategy tips
_____________________________
In recent years, the topic of diversity and inclusion in the workplace has extended to ensuring that companies increasing the participation, performance and compensation of minorities, not just symbolic hiring in order to 'tick a box'.
More importantly, companies have recognised the huge value that hiring a diverse range of individuals and personalities can add for their business, for graduate recruiters and beyond.
What is the difference between equality and diversity? Firstly, what is equality in the workplace? Equality aims to ensure that all individuals have equal opportunities to succeed, and it prevents individuals from being discriminated against or treated differently due to certain personality or physical characteristics. Diversity, on the other hand, is about appreciating differences between individuals, and in context with the workplace ensuring that each of these varying attributes and characteristics are valued.
_____________________________
Companies across the board are taking steps to create an equality and diversity strategy, now understanding the many diversity in the workplace benefits. If your company has found ways to successfully encourage and implement workplace diversity, please let us know about them by contacting content@giveagradago.com.
Or visit our website for more statistics, diversity in the workplace examples as well as other resources for employers: https://www.giveagradago.com/news/2019/08/what-is-diversity-in-the-workplace/424
_____________________________
CONNECT WITH US:
► Website: https://www.giveagradago.com
► Facebook: https://www.facebook.com/gagago.recruitment
► Twitter: https://twitter.com/giveagradago
► LinkedIn: https://www.linkedin.com/company/giveagradago-com-ltd
► Instagram: https://www.instagram.com/giveagradago