What is the Future of Work? | Jacob Morgan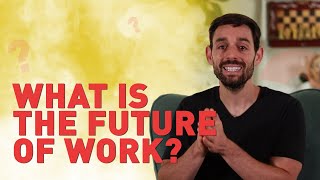 What is the future of work?
This is the wrong question.
When you ask this question, you are being passive.
It assumes that the future is something that's going to happen to you and that there's nothing you can do about it.
That is the wrong way for you to think about the future.
The future isn't something that happens to you, the future is something you create, shape, design, and build.
So the question is, what is the future of work that you want to see happen? What are you going to do to make that future happen?
#futureofwork #leadership #shapeyourfuture #employeeexperience #proactive
———————————————-
Website:
Twitter:
Tweets by jacobm
Facebook:
https://www.facebook.com/FuturistJacob/
Newsletter
Amazon Book Page:

————————————————–
Jacob Morgan is a keynote speaker, best-selling author, and futurist. He explores how the world of work is changing, what the future of work is going to look like, and we need to do to prepare. To work with Jacob or have him speak at your event visit TheFutureOrganization.com