Why your FEELINGS give the best Career Advice – Podcast with neuroscientist Andrew Huberman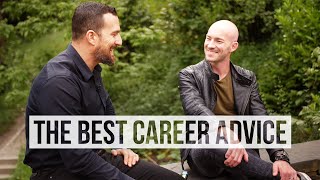 "When I go, I want to leave behind tools…not ideas, not inspiration, tools."
Andrew D. Huberman is an American neuroscientist and tenured professor in the Department of Neurobiology at the Stanford University School of Medicine. He has made several important contributions to the fields of brain development, brain plasticity, and neural regeneration and repair.
Andrew has been fascinated by humans and in particular, the human brain since a very early age and demonstrates not only an incredible curiosity, but a magnificent understanding of this and many other surrounding subjects for example, how we deal with stress, anxiety, grief etc. and how we can draw positive conclusions from seemingly negative situations.
I had the opportunity to chat with Andrew for the On the Way to New Work Podcast, at the EO Unlimited Event in Hamburg and he shared not only some intensely personal insights into how we became the person he is today but also some fascinating facts about the work he does as a neuroscientist.
I was absolutely blown away by this conversation and learned so much. A huge thank you to Andrew for his spontaneity and flexibility and for this incredibly insightful hour.
http://www.eonetwork.org
——–
We would be thrilled if you subscribe to our youtube channel here: http://youtube.christophmagnussen.com
Our videos and vlogs are about our journey to New Work. And since New Work is about the things that we really, really want to do it's an exciting journey that is nowhere near the end.
Check out our daily instagram stories
https://www.instagram.com/christophmagnussen/
https://www.instagram.com/katmagnussen/
––
About myself:
I am one of the crew members and founder at Blackboat. A digital consultancy specialized in New Work and Cloud Collaboration. http://www.blackboat.com. In this role I am also quite frequently on stage as a keynote speaker (http://www.christophmagnussen.com). But my true passion is filmmaking. You will see a lot about this topic this year. We are currently building something new!