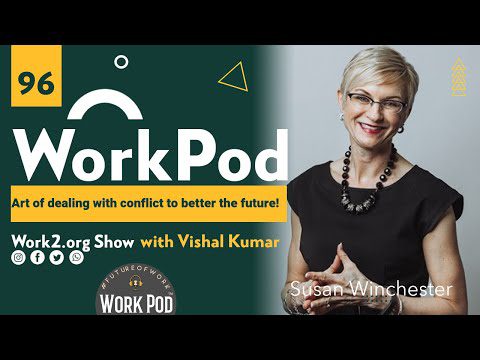 In this show, Susan Schmitt Winchester shared her journey to a leadership role of a Fortune 500 company. She shared her journey through her troubled childhood and how she copes up with her past and grow into the future. Susan shared wisdom on how to use the workplace as a healing vehicle and how everyone could achieve success by keeping their conflict as a progressive tool to achieve success. She shared ways to have a better working life.
Introduction:
Meet Susan! Susan Schmitt Winchester is the Senior Vice President, Chief Human Resources Officer for Applied Materials, and its more than 23,000 global employees. She has more than 30 years of experience in HR providing executive leadership most recently at Rockwell Automation and the Kellogg Company. She continually looks to meet today's global business challenges with creative HR strategies that engage people, support a dynamic, inclusive corporate culture, and enable company exceptional performance. Her passion is teaching executives and professionals how to succeed by discovering greater self-acceptance, fulfillment, and joy at work and in life. She has lived, studied, and worked in the United States, France, and England. She earned her master's degree in Industrial/Organizational Psychology from Illinois State University, and her double bachelor's from Albion College in Michigan. She also attended the University of Grenoble, France. Susan is a fellow of the National Academy of Human Resources-the highest professional honor for individuals in HR. She is also Vice-Chair, Leadership Advisory Board to the Dean of Engineering, College of Engineering, University of Michigan. And she is a member of the Forbes HR Council. She and her husband Charles live in southeastern Wisconsin, near Susan's sons Joseph and Sam. To follow her online, learn more about her programs, courses, and other opportunities to learn, or contact her directly, go here: https: //www.linkedin.com/in/sjschmitt/ www.susanjschmitt.com
Susan's Book Link:
Susan's Book: Healing at Work: A Guide to Using Career Conflicts to Overcome Your Past and Build the Future You Deserve by Susan Schmitt Winchester https://amzn.to/3rDzor7
TIMING:
Here's the GPS for the questions (These are just the boundaries questions to give a rough journey for the conversation):
Stage 1: Lead-in
1. Starter: Give your starter pitch 1 point that this book points to:
2. Vishal briefly introduce guest
Stage 2: Subject Matter Expertise
3. Walk us through your journey as a female leader having to big ranks at a large organization?
4. What is your secret as a female leader to finding success that you want other aspiring leaders to follow?
5. How would you see the future of the organization today?
6. What is the role of HR leaders for an organization?
7. How has HR evolved over the past years and where are you seeing it go next?
Stage 3: Introduction as an author
8.Why talk about healing?
9. Why conflicts are important?
10. What is bumper car movement?
11. You talk about an unconscious wounded career path, what does that mean?
12. You talked about self-acceptance, the first person you hire is yourself, Could you elaborate a bit more?
13. Why do you call the workplace a lab for emotional healing?
14. How do you keep a check on your own anger? What is the role of a leader when it comes to providing emotional support?
15. Who is the ideal reader for the book?
16. What is the incentive for a business to invest in employee healing?
Stage 4: Rapid Fire[Say what comes to your mind]
17 a. #FutureOfWork
17 b. #Technology
17 c. #Leadership
17 d. #Conflict
17 e. #Culture
17 f. #DigitalTransformation
17 g. #Disruption
17 h. #JobsOfFuture
17 i. #Empathy
17 j. #FutureofOrganization
17 k. #HealingAtWork
Stage 5: Closing
18. What are 1-3 best practices that you think are the key to success in your journey?
19. Do you have any favorite read?
20. As a closing remark, what would you like to tell our audience?
About TAO.ai[Sponsor]:
TAO is building the World's largest and AI-powered Skills Universe and Community powering career development platform empowering some of the World's largest communities/organizations. Learn more at https://TAO.ai
About WorkPod:
Work Pod takes you on the journey with leaders, experts, academics, authors, and change-makers designing the future of work, workers, and the workplace.
About Work2.org
WorkPod is managed by Work2.org, a #FutureOfWork community for HR and Organization architects and leaders.
Sponsorship / Guest Request should be directed to info@tao.ai
Keywords:
#FutureofWork #Work2.0 #Work2dot0 #Leadership #Growth #Org2dot0 #Work2 #Org2