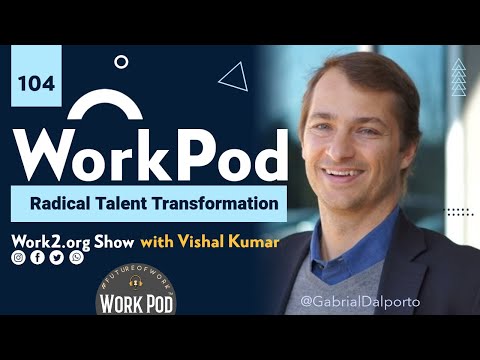 In this session, Gabrial Dalporto, chief executive officer at Udacity, discusses some of the key issues concerning retraining and reskilling the workforce. He also shares best practices and strategies on how companies, leaders and educational institutes can tune their systems to the demands of modern world of work.
Podcast Link:
iTunes:
YouTube: https://youtu.be/6zGsiCMJfSU
Bio:
Timelines:
1:00 Gabriel's journey
5:45 Gabriel's on his diverse career path.
9:09 Reflection on the two decades of reskilling and education at the workplace.
13:34 Udacity's contribution to workplace learning and reskilling.
16:49 The future of the university system vis a vis the new reality of work.
21:02 Ways to bring technology to the remotest corners for learning and development.
25:30:00 Impact of Covid on the learning and development scene in companies.
30:04:00 The role of a learning and development company while collaborating with companies.
33:57:00 The right depth and breadth of a tech transformation in workplace.
38:53:00 Challenges in retraining and reskilling the workforce.
42:06:00 The role of a legislature in reskilling programs implementation.
44:48:00 The role of Udacity in reskilling workforce around the world.
47:31:00 Are university degrees still useful?
50:29:00 Rapid fire with Gabriel.
56:19:00 Gabriel's success mantra.
57:30:00 Gabriel's favorite reads.
1:00:30 Closing remarks.
About TAO.ai[Sponsor]:
TAO is building the World's largest and AI-powered Skills Universe and Community powering career development platform empowering some of the World's largest communities/organizations. Learn more at https://TAO.ai