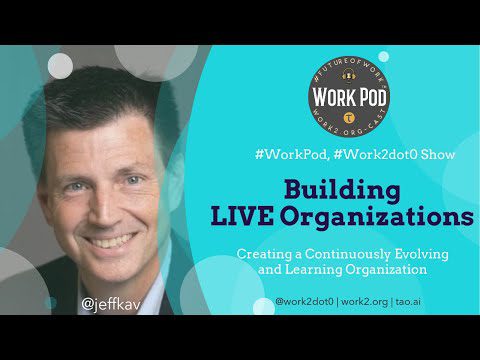 Discussing #FutureOfWork & Work2.0 with Jeff Kavanaugh. Jeff discussed the importance and tenets of a live evolving organizations. He shared some tips and tricks that businesses could do to ensure they are evolving for faster and agile growth through the age of transformation.
Jeff Kavanaugh is global head for the Infosys Knowledge Institute, the research and thought leadership arm of Infosys, a leader in digital services and consulting. Jeff is also an adjunct professor at the business school at the University of Texas at Dallas. He authored the best-selling book Consulting Essentials, and serves on boards of the Institute of Business Analytics at Indiana University, and the Marketing Analytics Advisory Board at the University of Texas at Dallas. Jeff earned an MBA from the University of North Texas.
Jeff's Book:
The Live Enterprise: Create a Continuously Evolving and Learning Organization https://amzn.to/3pYJFMd
Jeff's Recommendations:
Contact https://amzn.to/37LvGmB
The Nature of Nature: Why We Need the Wild https://amzn.to/37J3PTM
Longitude https://amzn.to/3buTEDC
Endurance https://amzn.to/3by5hK1
Discussion Timeline:
TIMELINE
Some questions we covered:
1. Starter: Give your starter pitch 1-2 points/key takeaways that this book points to:
2. Vishal briefly introduce the guest and kicks off the session
3. What is the state of organizations today?
4. How to steer an organization when external forces influence your internals [pandemic etc.]
5. What are some good habits you surfaced for a constantly evolving organization
6. What are some signs that you are steering in the wrong direction?
7. Explain your journey to your current role?
8. Could you share something about your current role?
9. What does your company do?
10. Explain your journey to this book?
11. Why write this book?
12. What are key takeaways in Live Enterprise
13. What are some role model companies pursuing the Live Enterprise model
14. What are the key drivers of a live enterprise
15. How to get started on this journey of making your organization live and adapting?
16. What are some misconceptions your want to un-surface?
17. What are 1-3 best practices that you think are the key to success in your journey?
18. Do you have any favorite read?
19. As a closing remark, what would you like to tell our audience?
About TAO.ai[Sponsor]:
TAO is building the World's largest and AI-powered Skills Universe and Community powering career development platform empowering some of the World's largest communities/organizations. Learn more at https://TAO.ai
About WorkPod:
Work Pod takes you on the journey with leaders, experts, academics, authors, and change-makers designing the future of work, workers, and the workplace.
About Work2.org
WorkPod is managed by Work2.org, a #FutureOfWork community for HR and Organization architects and leaders.
Sponsorship / Guest Request should be directed to info@tao.ai
Keywords:
#FutureofWork #Work2.0 #Work2dot0 #Leadership #Growth #Org2dot0 #Work2 #Org2