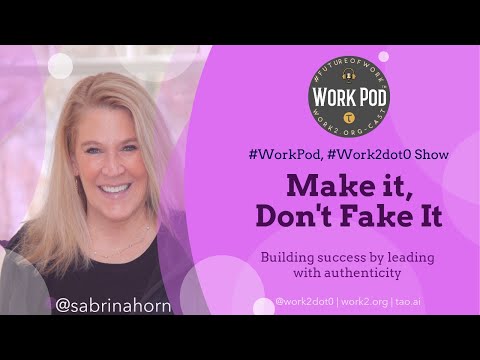 Sabrina Horn(@SabrinaHorn) on Leading with authenticity for real results! #FutureofWork #Work2dot0 #Podcast
In this podcast Sabrina Horn discussed his book Ruthless Consistency, the insights it carries and shared how his journey has helped him craft a strategy that could work on the testing times. He sheds light on the importance of ruthless consistency and how any leader could adopt it in their day to day activities and succeed in leading.
Sabrina's Recommended Read:
Good to Great: Why Some Companies Make the Leap and Others Don't https://amzn.to/3aRbr8p
Crossing the Chasm, 3rd Edition: Marketing and Selling Disruptive Products to Mainstream Customers https://amzn.to/3eKuLVU
The Hard Thing About Hard Things: Building a Business When There Are No Easy Answers https://amzn.to/3nAgNu8
Sabrina's Book:
Make It, Don't Fake It: Leading with Authenticity for Real Business Success https://amzn.to/3gPft5a
Podcast Link:
iTunes: http://math.im/jofitunes
Youtube: http://math.im/jofyoutube
Sabrina Horn is a tech industry communications expert, thought leader, and executive suite advisor with more than thirty years of experience. She is the founder of the PR firm Horn Group, which has received national acclaim as Best US Employer, Best US Tech Agency, Silicon Valley Hall of Fame winner, and PR Entrepreneur of the Year. Horn splits her time between San Francisco and New York City.
Timing:
0:46 Sabrina's journey.
3:00 Evolution of PR industry.
5:49 Common pitfalls for businesses when it comes to PR.
9:13 Being truthful in your PR.
12:25 PR in the times of disruption.
16:01 What are businesses/startups doing wrong when it comes to HR?
18:31 When should startups start engaging with a PR agency?
21:11 Frugal methods for startups to adopt PR.
23:31 How much resources should a startup invest in?
25:25:00 Success PR stories.
31:33:00 What kind of business does PR find hard to work on?
34:07:00 How can an unethical business work with a PR company to turn things around.
38:44:00 Why the title "Make it, Don't fake it"?
40:44:00 What's the main message in "Make it, Don't fake it"?
43:50:00 Distinguishing truth from a lie.
45:55:00 Dangers of lies and being delusional as a business.
51:28:00 Staying away from sensationalism.
56:57:00 Rapid fire.
1:00:45 Sabrina's secret to success.
1:01:56 Sabrin's favorite reads.
1:03:30 Closing remarks.
Here's the GPS for the questions (These are just the boundaries questions to give a rough journey for the conversation):
Stage 1: Lead-in
1. Starter: Give your starter pitch 1 point that this book points to:
2. Vishal briefly introduce guest
Stage 2: Subject Matter Expertise
3. How has the world of PR evolved over last couple of years?
4. What is the role of a PR?
5. What people get it wrong about their perception?
6. What are some common pitfalls most business fall into when it comes to their brand perception?
7. What are some easy 1-2-3 steps that one could take to improve their market perception?
Stage 3: Introduction as an author
8. Why write this book?
9. Who should read this book?
10. Is "faking it" the same thing as lying?
11. Why is running a business with integrity hard?
12. What is the FUD factor?
13. In an era of fake news and minimizing realties, what can we learn about the value of being honest, especially when it's hard?
14. Why should honesty be the foundation of every business?
15. You talked about the Founder's curse, what is that and why should I worry?
Stage 4: Rapid Fire with Sabrina [Say what comes to your mind, make the answer one sentence crisp]
16 a. #Business
16 b. #Entrepreneur
16 c. #Leadership
16 d. #Culture
16 e. #PRNightmare
16 f. #Things That Keep You Up At Night
16 g. #Success
16 h. #Failure
16 i. #Being Authentic
16 j. #Destiny
16 k. #MakeItDontFameIt
Stage 5: Closing
17. What are 1-3 best practices that you think are the key to success in your journey?
18. Do you have any favorite read?
19. As a closing remark, what would you like to tell our audience?
About TAO.ai[Sponsor]:
TAO is building the World's largest and AI-powered Skills Universe and Community powering career development platform empowering some of the World's largest communities/organizations. Learn more at https://TAO.ai
About WorkPod:
Work Pod takes you on the journey with leaders, experts, academics, authors, and change-makers designing the future of work, workers, and the workplace.
About Work2.org
WorkPod is managed by Work2.org, a #FutureOfWork community for HR and Organization architects and leaders.
Sponsorship / Guest Request should be directed to info@tao.ai
Keywords:
#FutureofWork #Work2.0 #Work2dot0 #Leadership #Growth #Org2dot0 #Work2 #Org2