You and AI – the future of work by Professor Joseph E Stiglitz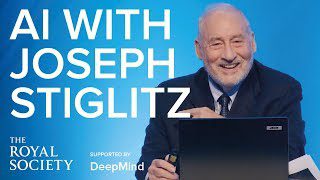 AI already supports many of the products and services we interact with on a daily basis, and technological advances are creating systems that can perform increasingly sophisticated tasks. Alongside these advances, come questions about the impact of AI on work and working life, and its implications for society. Will AI systems replace people in the workplace? How might these technologies affect how, where, and why we work? And how might this influence social inequalities?
In the fifth discussion of the You and AI series, Professor Joseph E. Stiglitz will explore the implications of AI for your work and inequality, considering how we can share the benefits of these technologies across society. Professor Diane Coyle CBE, celebrated economist and professor of Public Policy at the University of Cambridge, will share her thoughts before joining Professor Stiglitz for what promises to be a lively question and answer discussion.
Supported by DeepMind.
The Royal Society is a Fellowship of many of the world's most eminent scientists and is the oldest scientific academy in continuous existence. Visit our website to learn more: https://royalsociety.org/
The Royal Society publishes leading science journals. Stay informed: https://royalsociety.org/journals/